← Back to portfolio
Is Caffè Nero Really a Caffè No-Go?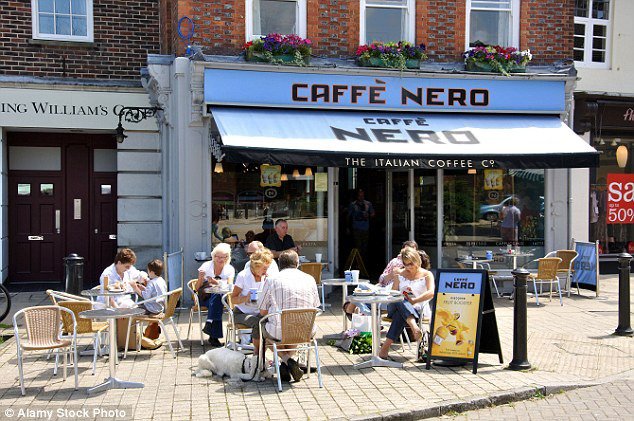 Many who stroll down Harvard Street at the heart of Brookline Village are on a quest to answer an age-old question—where can I find the best cup of coffee? Patrons certainly have a ton of variety when it comes to getting their java fix with one notable addition that opened its doors in the neighborhood last December.
Caffè Nero, the London-based coffee chain, is up and running for business, serving customers with a wide variety of authentic Italian pastries, espressos, and sandwiches. Aesthetically, with its dim lighting, plush loveseats, and stained hardwood flooring, the café offers what appears to be the standard, cozy environment that most shops would strive for.   
"I think Caffè Nero has a unique feel compared to other places around Brookline Village," said Alanna Bruce, who has been preparing espressos and perfecting lattes since the shop's opening day. "We pride ourselves on brewing our coffee the Italian way."
The brewing methods differ slightly from drink to drink. Cold brews are left for 24 hours before being strained to ensure the strongest, most favorable cup o' Joe, while drinks being made by French press must contain fresh beans grinded to textbook consistency.  However, coffee quality isn't the only component that Caffè Nero aims to perfect.
"We want to ensure that each customer has a personal experience when ordering," said Bruce. "Each barista will see that person's order the entire way through, it's not like a Starbucks or Dunkin where one person takes your order, another person makes the drink, and another gets your food."
Clients have seemed to appreciate both this business model, and the extensive menu, which includes everything from caprese salads to ham and cheese croissants. "I like it here," said local Elana Vasune, as she munched on a thick slice of apple cake. "Starbucks is nice, but it doesn't have the same type of cozy atmosphere."
Patron Michael Faherty echoed his love for the menu as well as the interior design. "Structurally I appreciate the hard, rough-looking wood," said Faherty who has visited the shop three times since it opened. "They've also got the best sandwiches."
But not everyone is praising the arrival of Caffè Nero.  Some more established neighborhood joints like Koo Koo Cafe and Clover Food Lab have mixed feelings over their newest neighbor.
"There have certainly been discussions amongst owners in the community about Caffè Nero," said Israel Gutierrez, who works as a barista at Koo Koo Cafe by day and a master's student at Boston University by night. "For smaller businesses it's the little things that matter.  Since our budgets aren't as big as a chain restaurant, we don't have the wiggle room to fail—the little guys have to try a lot harder."
Home to a plethora of vegan and vegetarian options, Koo Koo also specializes in homemade pastries baked daily, and locally sourced ingredients.
"We pride ourselves in providing an outstanding product," said Gutierrez, as he shifted his weight under a neon green "buy local" sticker plastered to the store's back wall. "I would say customers really appreciate what we do since about 85 percent of our customer base is made up of regulars."
While geographically Clover Food Lab couldn't be closer to Caffè Nero, as the two storefronts sit directly across from one another on Harvard Street, staff member Jamie Bishop has found a way to mentally distance the two coffee joints.
"Our coffee is different from what Nero is doing," said Bishop. "We do more pour over coffee while Nero specializes in espresso…but with that being said, people know what they want."
Home to the infamously tasty chickpea fritters and rosemary fries, Clover, like Koo Koo, emphasizes the importance of using of locally sourced ingredients in all of their dishes. It's distinct business choices like this that keeps barista Jake Valente confident about the continued success of Clover in Brookline Village despite any competition.
"I think that there is always the potential for a decrease in customers when new places open up," said Valente. "But at the same time if people like the food model and the business model of a particular place they are going to keep coming back."