← Back to portfolio
Improving the Brookline Neighborhood One Tree at a Time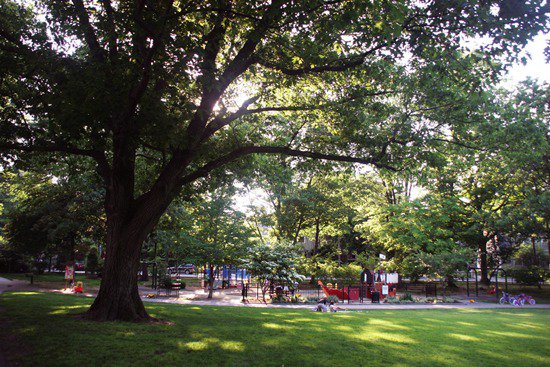 The Town of Brookline thinks residents will benefit from more trees—so it's giving them away for free.
The Brookline Tree Planting Committee held a community forum on Tuesday, March 21, as an opportunity for residents and tree-enthusiasts alike to learn more about its Back of Sidewalk Tree Planting Program. The program itself encourages homeowners to apply for a tree to be planted within 20 feet of the public right of way on their private property. If approved, residents will work with the Tree Planting Committee, the Tree Warden, and the town to select, plant, and maintain the tree.
"Since there are so many amazing benefits that come from trees, the town of Brookline is putting our money where our mouth is and supporting the Back of Sidewalk Program," said committee member Liz Erdman, who presented during the meeting. "We provide trees to try to increase our canopy and use that back of the sidewalk-lawn area that trees do so much better on."
The committee encouraged residents who are interested in participating in the Back of Sidewalk Program to fill out an application that includes a property sketch diagram and a tree planting maintenance agreement. Applications are also available on the Brookline town website, however not every household that applies will be granted a tree.
"Our initial order was 245 trees," said Tom Brady, who has served as the town's Tree Warden for the past 16 years. "We have about 40 available at the moment, but I always say it has to happen at the right place and the right time. We will determine whether or not your lot is suitable based on a variety of factors," he said.
Committee Chair Nadine Gerdts furthered the discussion about the program by focusing in on some frequently asked questions.
"A question we often hear is 'what tree is the right tree?'" she said. "There are so many factors to take into consideration—the aspects of the house, the soil condition, the trees that you grew up with. There's a science but there's also an art when deciding what kind of tree to plant and if you participate in the Back of Sidewalk Program we will help you with that."
According to the third and most seasoned committee member Hugh Mattison, who has served the committee for the past 26 years, that art of selecting the best tree for a specific residential area is made significantly easier with technology. Mattison encouraged residents log onto I-treetools.org, a website sponsored by the US Forest Service that estimates the environmental payoffs of a wide variety of trees.
"The site allows people to really focus in and see the environmental benefit of different types of trees by inputting factors such as tree species, sun exposure, location, and trunk measurement," he said.
Brookline resident Ulla Larson hopes her home will be considered for the program. "I like trees and gardening and having a green city," she said. "I've noticed that a lot of trees over the last few years have died in this area, but by planting more through programs like this I think the town is trying to alleviate the problem."
Resident Alberto Migliore said he was excited to hear about the technological resources promoting tree stewardship. "I've always been interested in trees and I attend different events recognizing trees that are sponsored by other organizations," he said. "I tapped into the Back of Sidewalk Program, but there were already too many trees close to my condo complex near Washington Square."
Brookline local Trisha Marks ran into a similar issue, as her condo complex on St. Paul Street didn't provide an ideal location for the program. However, she said this setback did not diminish her love for trees as she even waters some residential street trees in her spare time.
"The trees are still part of my heart. We need them because they help us, they're beautiful, and they provide us with oxygen," she said. "Really, what more could you need?"