← Back to portfolio
Finding a Gateway to Art and Acceptance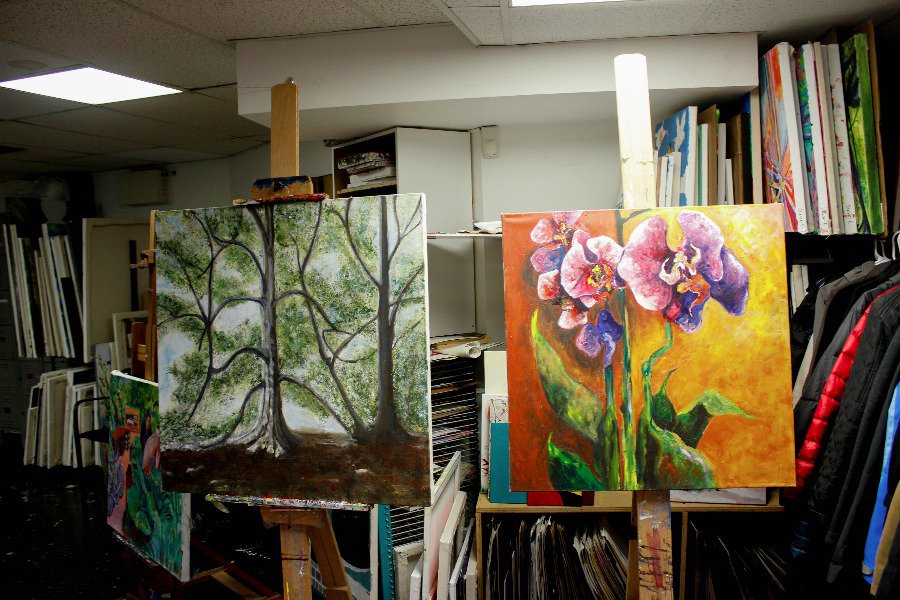 As William Shakespeare famously wrote in his play Henry VI, "where thou art, there is the world itself." This phase, while simple in its wording, delivers a profound message accessible to anyone who has taken the time to appreciate or create art in any medium.
At Gateway Arts, located in the heart of Brookline Village, the artists have certainly done their fair share of both. From achieving the perfect brush stroke, to experimenting with color palettes, each and every artist works diligently to create their own unique pieces while simultaneously fostering an intimate community of inclusivity and healing.
"Art is a profession but it also heals," said Rae Edelson, who serves as Gateway's Director. "It allows for emotional healing while simultaneously creating."
What began as a small basement operation in Allston 44 years ago has since flourished into a full-fledged organization accommodating 100 artists and 25 staff members.
"When Gateway began in 1973 we only had a basement studio for eight artists," said Loel Westermann who manages Gateway's storefront. "Over time, we grew to require a space where we could encompass more."
The studio space adjacent to the store previously functioned as a factory building, which over time has transformed into a multifaceted expanse of creativeness. Large tubs of art supplies line nearly every wall, while handcrafted signs adorn the various shelves—one of the most notable advertising that visitors can purchase poster versions of various art pieces displayed in the gallery, even if they have already been sold.
"The mission of Gateway is to provide careers in art for people with disabilities," said Christine Nolan, who is Gateway's development specialist. "It's not just a day service where people come and spend the day. It's really about empowering people to live a life that they want to live and make a career in order to support themselves in a way that they might not have had access to."
This mission seems to resonate with the surrounding community as well. Neighboring Brookline Village businesses such as the Puppet Showplace, Henry Bears Park, and Koo Koo Café often work in partner with Gateway, providing space for advertising within their storefronts or making donations.
"I would say that Brookline, for the most part, is a very supportive community because they want to see local businesses succeed," said Nolan. It's hard to tell if we were to move somewhere else what kind of experience we would have in that community because Brookline is very supportive of us."
The latest exhibition in which viewers can show their support is the "I Curate Myself: Voices in Harmony" show, displayed in the Gateway Gallery now through March 11.
"I think when you look at the work you will see that it's really excellent," said Edelson. "To all Gateway artists, you are what it's all about…every time we have a new artist it's like another star in the heavens."
An artist's reception took place on Friday, Feb. 10 from 6 p.m. to 8 p.m., allowing viewers to drift between the gallery and the studio space to admire the selected works. The show features 12 artists who collaborated with one another to curate the exhibition.  Their artistic voices, as the title suggests, came together in harmony while experimenting with a wide range of mediums including acrylic paint on canvas, oil pastels on paper, and woven fibers.
"I think the show is a nice compromise of pieces," said Elizabeth McCormack whose vibrant painting of a home surrounded by a field of flowers is currently being featured. "The people at Gateway are so passionate and friendly, I've learned so much by being here."
Artist Katy Bussell echoed McCormack's appreciation for Gateway, noting that the studio space helps to rouse her artistic visions. "I like being surrounded by all of the artwork here," said Bussell, gesturing towards her colored pencil drawing entitled. "What Power Do You Have?"
"It gives me new ideas and inspiration for my cartoons and drawings," she said.
Works by the artists are sold both online and in-store. Artist Alison Doucette recently had a sale with an affiliate of the Patriots empire. "I sold a patriots piece to Patti Kraft, Rob Kraft's daughter-in-law," Doucette announced excitedly, further illustrating the expanse of talent held by Gateway's artists.
Spectators certainly took notice of this talent during the reception. Mary Ann Portmann took a particular liking to Doucette's fiber pieces entitled "Flaming Guitar" and "Looking Out" respectively. "It's nice especially in the winter when you can come in and see fibers with brilliant colors," said Portmann, who works at Wellesley College. "It feeds your spirit.""Looking Out" and "Flaming Guitar"
Decadent cupcakes from Party Favors as well as wine sponsored by Central Bottle in Cambridge served to feed both the spirits and stomachs of reception attendees. Music by local Brookline talent "Jack and Jason" and "The Crunchy Lemons" further established the ambiance, as their melodious art reverberated off the pieces displayed on the walls.
"Gateway is not about disability," said Edelson. "It's about ability, talent, and joy."