← Back to portfolio
CDIR Won't Stop in Fight for Immigration Rights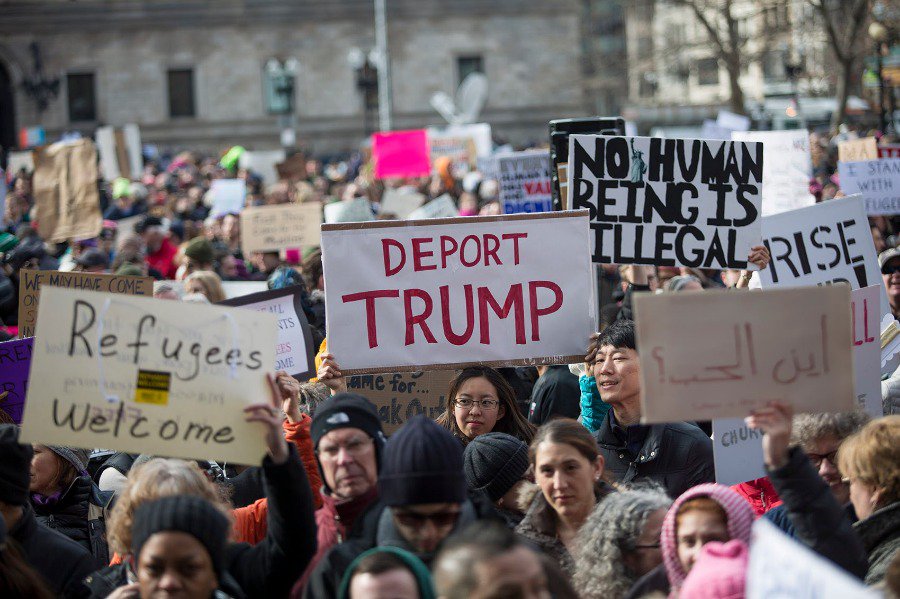 "Immigrant rights are human rights!" was just one of the rallying cries of demonstrators during the protest on President Donald Trump's immigration ban in Copley Square in January. Nearly two months later members of the Brookline Commission for Diversity, Inclusion, and Community Relations are working to turn those words into action.
Members of CDIR met on Monday to discuss Immigration and Custom Enforcement, or ICE, raids as well as amending the current policy concerning local law enforcement's ability to inquire about the citizenship or immigration status of individuals suspected of a crime.
"What we have to deal with is during a lawful encounter what are the questions that the officer can ask that person who's suspected of criminal activity," said Tony Maro who serves as a local public defender. "If the crime itself has to do with a person's identity, then what questions can the officer ask that person to identify them? Now asking their immigration or citizenship statuses I don't see how that necessarily would help identify a person," he said.
Members of the commission concurred. According to materials made available by the Brookline Police Department, as the current law stands concerning stop and frisk threshold inquires, no specific rule can "be formulated to determine the period of time required for an investigative detention," however, it should be "reasonably brief under the particular circumstances."
Commission members are advocating for more precise language in large part so that officers cannot question the immigration or citizenship status of the suspected individual.
"Your identity doesn't have anything to do with your immigration or citizenship status," said Maro, prompting nods of agreement from all eight members in attendance.
Manny Howard, a retired lawyer who has served on the commission since January offered a potential point of clarification to the current policy.
"I want to include language that once a person says, 'My name is Joe Jones, I'm here to do business or I'm outside to take a walk and I live around the corner,' that should be it," said Howard.
The commission motioned to present the policy changes to the Brookline Board of Selectmen during their next meeting before moving onto the topic of ICE raids. Selectman and commission member Bernard Greene prompted the conversation, focusing specifically on the role of local law enforcement should a raid occur in Brookline.
"I suggested that this be taken up by this commission because it is a very important issue…if the feds come out raiding a store we want the police to be there to maintain order," said Greene. "But, at the same time we don't want the police to be assisting the raid in any way. It's a complex situation so we need to be thoughtful."
Maro encouraged that mindfulness about public safety should be incorporated within any proposed procedure.
"Immigrant rights and public safety are not inconsistent," Maro said. "You need law enforcement in your community to maintain order while the feds are kicking up a lot of dirt unfortunately."
This conversation serves as a continuation of one had by the Board of Selectmen in January, when members reasserted Brookline as a "sanctuary city." Brookline resident Jan Shryben attended the meeting with his wife prior to the CDIR forum and applauded the continued efforts of the commission.
"I was generally pleased because it seemed like getting down to the cases," he said. "The situation is obviously complex enough that it's going to take a lot of work. There is not a very easy one size fits all solution."
Shryben's wife, Frances Nason agreed with her husband while simultaneously advocating for the increased importance of personal and community activism.
"We went to the selectmen's meeting about revising the whole policy on immigration status because I think that with what's going on with our current political situation it's more important than even to be involved," she said. "At the end of the day we all immigrated from somewhere. We all have a story."
The Commission for Diversity, Inclusion, and Community Relations will meet again on Tuesday, April 18, from 6:30 – 7:30 p.m. at  Brookline Town Hall.