← Back to portfolio
Cambridge man Arraigned on Shoplifting Charge in Brookline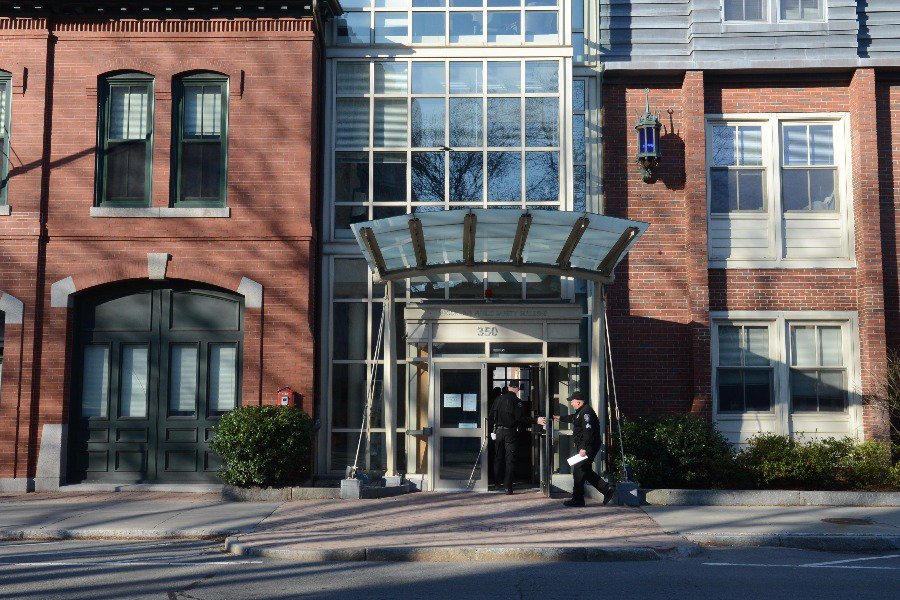 A Cambridge man was arraigned in Brookline District Court on Monday, Feb. 27 after allegedly shoplifting from the Stop & Shop at 155 Harvard St. two days earlier. 
Anthony Chambers, 60, appeared before Judge Mary White where he was formally charged with shoplifting by asportation. The defendant, represented by attorney Timothy Foley, pled not guilty to the charge.  
Escorted into the courtroom by two trial officers, Chambers stood solemnly as the court reviewed the police report and his Board of Probation record. According to the documents, this is Chambers' fifth subsequent offense for shoplifting in addition to 182 previous arraignments in Massachusetts's courts.
"Situations like this seem to be a sad sign of the times," said Lieutenant Philip Harrington of the Brookline Police Department when asked about Chambers' case. "These are crimes of opportunity."
According to police, Donald Cobban, the assistant store manager, approached Chambers and a currently unidentified female counterpart in the Stop & Shop on Feb. 25, having recognized Chambers from another encounter in the store six days prior.  Cobban told both parties to "put those bags down," referencing the five Stop & Shop bags between them, police said.  
While the female immediately dropped her three bags and left the store, Chambers informed Cobban he had paid for everything in his two bags and proceeded to flee the area, police said. 
Cobban declined to comment on the incident citing privacy and security reasons for the ongoing investigation. According to police, who later arrested Chambers on nearby Foster Street, the two bags originally in his possession contained $102.38 worth of grocery and beauty items.
Brookline resident Sharon Tiner said she wasn't at all surprised to hear of the incident. "That place is constantly getting robbed, probably because they've cut all of their staffs' hours back," said Tiner, who added that she has formed a close relationship with many of the store employees after she lost her vision 15 years ago and depends on specialty customer service while shopping. "The town of Brookline has changed quite a bit…I think it's the day and age.  I know that the Walgreens down the street also gets robbed quite a lot."
There might be evidence behind Tiner's assertion, as Lieutenant Harrington provided call records to the Brookline Police department from both locations. Since September, the Stop & Shop has called regarding five incidents of shoplifting, two counts of a suspicious person, and two counts of larceny. The Walgreens on 99 Harvard St. made nine similar calls since September—6 for shoplifting and 3 for larceny, according to the records. 
"If you have a business, you have to take care of it properly," said Tiner. "If you have poor security the store itself is putting its shoppers in jeopardy."
Chambers' attorney Timothy Foley could not be reached for comment regarding the case. Hartford, Connecticut-based attorney Charles Shimkus weighed in on the incident, having 30 years of experience representing clients in similar situations. 
"If it's somebody's fifth offense, now you're looking at a prosecutor saying, 'Hey wait a minute…we're not going to let you go with community service here. This is an ongoing problem,'" said Shimkus. "However, whether it's his first or his fifth is not really important to whether he did it or not, but it does indicate a pattern of activity. So, if he gets up there and testifies that, 'I don't shoplift,' it's like wait a minute, you've got four convictions, and certainly they have every right to bring that up on cross-examination if he's testifying at a trial."
Judge White held that Chambers is responsible for paying $150 towards court fees and ruled that  he stay away from the Stop & Shop on Harvard Street. 
Chambers is scheduled to return to the Brookline District Court on April 10 for a pretrial hearing.